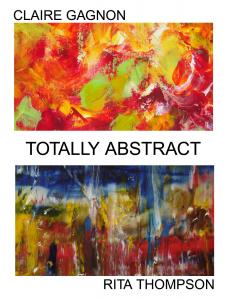 Opening Reception: Saturday October 13 from 1-4 PM with pianist Bill Donohue.

The Parish Center for the Arts (PCA) in Westford presents an October exhibit of exciting abstract paintings by Claire Gagnon and Rita Thompson. For the past two years the artists have left their realist painting to explore the many possibilities of color, texture, and imbedded material.

Born and raised in Quebec City, Canada, Claire Gagnon is now an American. She studied under Micheline Raymond, an award winning artist from Montreal, Canada. In 2000 Claire moved to the USA, where she studied under Tom Gill, Charles Movalli, David Curtis, amongst others. Claire's art is on display at the Brush Art Gallery in Lowell, MA. Her work has been seen the PCA, Whistler House Museum, Chelmsford Art society, North Shore Art Association where she won numerous awards. Visit her web site at www.clairegagnon.com .

Boston native Rita Thompson now resides in Chelmsford and maintains a studio at...